Treatment Resource Guide
Our Treatment Guide is a listing of local addiction and mental health treatment providers in the tri-state area. We will update the reference list annually with new or changing information, but please contact us if you would like an agency or practitioner added to the Guide.
Substance Abuse Council News
Treatment Resource Guide Check out our area Treatment Resource Guide.
Please check out the Grants section of our website for more information regarding the pre-application/application process for 2015 Grant Funding. Pre-applications are due by Nov. 14th, 2014. 2015 Pre-Application Form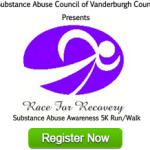 Race For Recovery-September 24th, 2016, Eykamp Scout Center Register Online Now! Race for Recovery 2016 Sponsorship opportunities are available by contacting our office.